MARS USA
Comics est le terme généralement utilisé aux États-Unis pour désigner les bandes dessinées.

1992-2015 Modern Age / L'Age Moderne
---
Martian Manhunter: American Secrets (DC - 1992) 3 épisodes
#1 script: Gerard Jones; couv/art: Eduardo Barreto
Les lézards attaquent Jones, Perkins ("Elvis") Preston, et Patty Marie
"The Strange Experiment of Dr. Erdel" (J'Onn J'Onzz) DC Silver Age Classics Detective Comics 225 (DC, 1992) / from Detective Comics #225 (November 1955) script: Joe Samachson; art: Joe Certa
L'arrivée du Martian Manhunter sur Terre.
"Face to Face with the Emperor of Mars!"(Tim Tyme) Children's Digest 393 (janv-fév. 1992) script: Tim Quinn ; art: George Sears
"The Martians" Vault of Horror 4 (mars 1992) script : Al Feldstein, art: Wally Wood / repris de Weird Science 15 (sept-oct 1952)
La première mission habitée vers Mars est un succès! L'équipage débarque et trouve bientôt des signes de vie intelligente. Ils entrent dans ce qui semble être un musée et de hasard sur une exposition illustrant un conflit entre un monstre de goutte et un être humain. Ils sont étonnés les Martiens ressemblent tellement Terriens! Une enquête plus approfondie, cependant, les amène à découvrir que le «musée» est en fait une salle de cinéma; l'exposition était en fait une affiche de film dépeignant un Martien héroïque contre un monstre hideux. Malheureusement pour les sensibilités des astronautes, le "monstre hideux" se réfère à un terrien.
"Crazy Date" Rockin' Bones (New England Comics) #2 (juin 1992) script/couv,art: Darren Merinuk
Tommy a rendez-vous avec un martien.
"Mr. Monster attacks!" 1 (août 1992) Tundra / couverture par Dave Doorman
Port-folio de Michael T. Gilbert The Martians: A Day in the Life (1984)
"Mars or Bust" Jetsons Giant size #1 (oct.1992)
"The Song That Laid Waste To The Earth" My Name is Chaos 1 (sept.1992) DC Comics couv: Luis Royo, script: Tom Veitch, art: John Ridgway
Qui décidera de la forme de l'avenir? MON NOM EST CHAOS examine graphiquement deux possibilités étonnantes. Thomas Valis, un homme hors du commun dans des moments difficiles inhabituellement, a été choisi par les anciens êtres immortels, d'être le premier humain supérieur de la Terre. Son frère Steven, un brillant, scientifique, défigurée, crée Mandroids surhumains utilisant les merveilles de la science du 21ème siècle. Ces deux types de super-êtres doués - cosmique et artificiellement créés - sont à la base d'un drame de l'intensité, atteignant des profondeurs de la Terre une déchirée par la guerre des sables de Mars un nouveau colonisé ... et au-delà.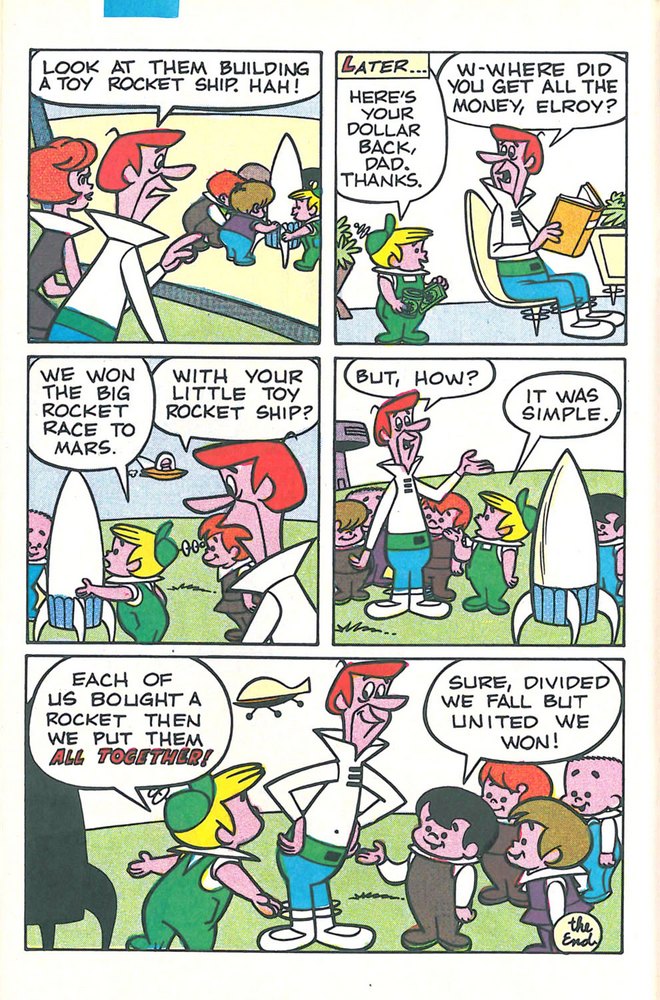 "Mars or Bust" The Jetsons Giant size 1 (octobre 1992) art: Jorge Pacheco?
Elroy veut participer au concours de fusée pour Mars.
"Metamorphosis and Awakening" My Name is Chaos 2 (oct.1992)
L'humanité continue son évolution en tant Steven Valis et ses humains génétiquement supérieurs commencent à coloniser Mars. Pendant ce temps, le frère de Thomas Steven apprend de ses nouvelles puissances émergentes.
"I Am Mars" My Name is Chaos 3 (nov.1992)
Sur Terre, Steven Valis et ses Mandroids mutants combattent la guerre dévastatrice et finale, tandis que sur Mars, son frère Thomas cherche la nature des êtres mystérieux qui lui ont choisi d'être l'espoir de l'humanité.
"The Power of One" My Name is Chaos 4 (déc.1992)
Thomas Valis réalise enfin son destin comme un surhomme, tandis que son frère Steven et ses Mandroids répondre à leurs sorts finaux, ouvrant la voie à une nouvelle ère de l'humanité!
"Slaughter on Phobos" Magnus Robot Fighter 21 (fev.1993) Valiant Comics
"Martian Voodoo" Jetsons Giant size 2 (mars 1993)
"The Vaults of Yoh-Vombis" Den Saga #2, Fantagor Press (mai 1993) art: Richard Corben
adaptation de la nouvelle de Clark Ashton Smith.
"Dino in the Invaders" The Flinstones Giant size 3 Harvey (nov.1993)


Des martiens débarquent sur Terre, rencontrent Dino qui les emméne réveiller Fred de sa sieste. Celui-ci chasse les intrus. Les martiens s'en vont effayés et renoncent à eenvahir la Terre.
Biker Mice from Mars 1-3 Marvel (nov.1993-janv.1994)
d'aprés le cartoon tv créé par Rick Ungar.
"Mars needs velcro" Ren & Stimpy Show 14 (janv.1994) script: Solly Fisch; art: Ken Mitchroney
Ren Höek est un chihuahua dépravé, Stimpy un chat extrémement stupide. Ensemble, ils forment le couple débile Ren et Stimpy. Adapté des fameux cartoons visibles chez Nickelodeon et MTV. Les martiens attaquent la Terre réclamant notre velcro! Ren et Stimpy sont envoyés nous sauver (?).
Orson Cart on Mars (Red Fox Graphic Novels) (fév.1994) art: Steve Donald
Après un accident avec la tondeuse à gazon radioactive du savant fou, le Professeur Tangent, Orson Cart , un simple écolier ordinaire, découvre que chaque partie de son corps est détachable. Orson Cart, Tangent et une équipe de cinéma décollent pour Mars pour y tourner un film sur les Martiens. Quand Orson est pris au piège dans l'espace, poursuivi par un gang d'aliens hostiles, son pouvoir se révéle très utile.
"Halt, Fur-Mammal! / Halte, mammifére à fourrure!" Looney Tunes 1 (avril 1994) titre de la couverture; "Earstruck" script: Jack Enyart, art: George Wildman


Maarla la martienne demande à Marvin de lui apporter une étole en fourrure d'une créature de la Terre, en l'occurence Bugs Bunny.
Mars Attacks 1-5 Topps comics (mai 1994- sept. 1994)
Mars Attacks Special Edition Topps Comics (1994) nombre limité à 5000 exemplaires du n°3
Ray Bradbury's Martian Chronicles 1 (juin 1994) Topps; Byron Preiss comics / couv: Jim Steranko.
"The Secret of Mars" Donald Duck 286 (sept.1994)
"The Spiders from Mars" Guardians of the galaxy 54 (novembre 1994)
Les gardiens de la Galaxie se déplacent sur Mars pour y découvrir un musée martien rempli de trophés humains.
"An Eye like Mars, to threaten and command" Guardians of the galaxy 55 (décembre 1994)
Mars Attacks Graphic Album SC (1994) Topps comics, recueil des n°1 à 5
THB (Horse Press / oct.1994 - août 2010) art: Paul Pope; premier épisode en 1994 (refait en oct.1995), THB: Comics From Mars #1 publié par AdHouse Books a été une exclusivité du San Diego Comicon 2007. Le n°2 est paru en août 2010 pour le Baltimore Comicon et clôt la série.

Situé sur Mars,dans un futur lointain indéterminé, THB raconte les aventures suréalistes d'une adolescente, HR Watson, et de son compagnon géant artificiel et garde du corps surpuissant. THB (qui signifie Tri-Hydro Bi-oxygéné, une molécule créée par Pope). THB ressemble à une petite balle de caoutchouc porté autour du cou d'HR Watson mais qui lorsqu'il est activé par de l'eau, se dilate pour prendre la forme d'un géant super-puissant de 2m 15 de haut.

"Projekt: Mars; 1974; 1975; 1981" Tigers of Terra (vol.2) 8 Families of Altered Wars 21 (janv.1995) Ted Nomura
"John Carter of Mars" Edgar Rice Burroughs' Tarzan: The Lost Adventure #1-4 (Dark Horse /janv-avril 1995) John Coleman Burroughs (script), John Coleman Burroughs (art), John Coleman Burroughs, Jane Ralston Burroughs (encrage)
réédition du strip hebdomadaire dans les journaux du début 1941, cela commence comme l'adaptation du premier roman puis s'en éloigne complétement.
"Mission to Mars - The Search for Monuments on the Red Planet, Part 1" Omni Comix 3 (oct-nov.1995) vendu avec le magazine Omni, script: George Caragonne et Tom Thornton, art: Andrew Robinson et Bob Wiacek.
La découverte du Visage de Mars incite un millionaire excentrique à partir pour explorer Mars avec une équipe d'aventuriers.
"Tarzan/John Carter: Warlords of Mars" San Diego Comic Con Comics #4 - Dark Horse, July 1995
Mars Attacks 1-7 Topps comics (août 1995- mai 1996)
Mars Attacks Wizard 1/2 Topps comics (1995)
" Tarzan/John Carter: Warlords of Mars" Dark Horse 1 à 4 (janv. à juin 1996) scénarisé par Bruce Jones et dessiné par Bret Blevins
"Mars Ain't the Kind of Place to Raise Your Kids…" Space Above and Beyond 2 (fév.1996)
"Mars wants Bettie Page" in Bettie Page (one-shot) Dark Horse comics (mars 1996)
adaptation of the TV show pilot episode.
Mars Attacks Baseball Special 1 Topps comics (juin 1996)
"Letters From Venus: Life On Mars" New Love 2 (nov.1996)
Mars Attacks 1-4 Image comics (déc.1996- mars 1997)
Mars attacks the Savage Dragon / Image Comics-Topps (déc.1996- mars 1997) 4 épisodes art: Claude St. Aubin and Larry Mahstedt
Les Martiens arrivent sur Terre pour tuer et conquérir. Et le Dragon... est l'un d'eux?
"Mars Attacks Image " 4 épisodes (déc. 1996 - avril 1997)
Les envahisseurs martiens préférés de tout le monde ciblent la terre avec leurs cerveaux enfermés dans un casque en verre. Cette fois cependant ils ont Spawn, Savage Dragon et d'autres pour leur faire face et défendre la terre de l'attaque.
Les Martiens seront vaincus mais pas avant d'infliger des pertes tragiques causant des tragédies qui vont secouer Image Universe pour les années à venir.
" Death Strikes In the Martian Night" Complete Jack Kirby v.1 1917-1940 (janv.1997) ed.Pure Imagination / script: Jac Kirby (aka Michael Griffith); art: Jack Kirby / from Science Comics #4 (May 1940)
Aventure de Cosmic Carson
" Search for Julie Wade" Complete Jack Kirby v.1 1917-1940 (janv.1997) ed.Pure Imagination / script: Jack Kirby; art: Jack Kirby / from Crash Comics Adventures #3 (juillet 1940)
Aventure martienne d'Adam Starr de la Légion Stellaire.
"Invaders from Mars" JLA 1 à 4 (janv-avril 1997) script: Grant Morrison; art: Howard Porter / in JLA (DC, 1997 series) #1 - New World Order TPB (avril 1997)
"Mr. Monster vs The Nazis From Mars" Penthouse Max #3 (printemps 1997) script: Michael T. Gilbert; art: Michael T. Gilbert (layouts); George Freeman; encrage: George Freeman; couleurs: Laurie Smith / in Mister Monster versus the Nazi from Mars or Mister Monster : Worlds War Two (Atomeka Press, 2004)
En 1953, le petit Wally Wood est opéré par les Martiens ainsi que ses parents, il est ensuite entré dans l'armée américaine pour préparer l'invasion martienne de 1969. Mister Monster sauvera la Terre de la domination martienne.
"Mars Attacks High School 1-2" Topps comics (mai-sept. 1997)
"The day after the martians came" Savage Dragon 38 (mai 1997) script,couv,art: Erik Larsen / in Savage Dragon (Image, 1996) #8 - Terminated
"The round Table of america" Big Band Comics 12 (Image - juil.1997) script: Gary Carlson (intrigue, dialogue); Chris Ecker (intrigue); couv, art: David Zimmerman
Introduction de Mr Martian
"Martian Manhunter: The Fire This Time" Adventures in the DC Universe 5 (août 1997) couv, art: John Delaney; script: Steve Vance
Le Martian Manhunter sauve des enfants menacés par une fausse soucoupe volante.
"Worlds Within Worlds" Green Lantern v.3 Annual 6 (oct.1997) art: Jeff Johnson; script: Ron Marz; couv: Gary Gianni
Kyle Rainer (Green Lantern) passe à travers un tableau et se retrouve sur une planète Mars, entrainé dans une aventure à la Burroughs.
"Phantom Guard" 6 épisodes (oct.1997- mars 1998) Image / script: Sean Ruffner; couv,art: Ryan Benjamin
une équipe d'humains dotés de super pouvoirs est désigné pour faire la police sur Mars contre le terrorisme et l'anarchie.
"Eyes of Mars - chapter 2" Fandom's Finest Comics 2 (1998) Hamster Press / script, art: Mike Kaluta / from Graphic Showcase (C.C.A.S. Publications, 1967 series) #2 (été 1969)
2 pages inspirées par les romans martiens d'E.R.Burroughs.
"The Strange Experiment of Dr Erdel" Secret Origins replica 1 (1998) art: Joe Certa / Detective Comics (DC, 1937 series) #225 (November 1955
Origine du Martian Manhunter.
" Mars: God of War; Captain Science: The Martian Slavers" Thrilling Science Fiction 1 (1998) reprints en noir et blanc.
"The Trouble with Mars!" Looney Tunes 38 (mars 1998) couv: Leonardo Batic; script:Terry Collins; art:Pablo Zamboni
Duck Dodgers sort de sa retraite après que Marvin ait envahi la Terre en réponsee au robot Pathfinder .
" Suckers of Mars" Dead Corps 1 (sept.1998) scénarisé par Christopher Hinz et illustré par Steve Pugh (Helix)
Un cambriolage dans une exposition martienne met à jour un trafic de drogue.
Martian Manhunter Annual #1 (oct.1998) couv: Bernie Wrightson
Martian Manhunter (DC) série de 38 numéros de décembre 1998 à novembre 2001
"The Martian Plague" Thrilling Science Fiction 2 (1999) reprint en noir et blanc
"Rumble on the Red Planet" Looney Tunes 54 (juil.1999)
"Friendly Martian" The Nimrod 3 (Fantagraphics) aout 1999 / couv,script,art: Lewis Trondheim
Le gentil martien arrive sur Terre.
"From Krypton to Mars! " Superman: The Man of Steel 92 (September 1999)
"Mars Needs Dogs" Looney Tunes 56 (September 1999) script: Chuck Kim; art: David Alvarez
Charlie le chien rencontre Marvin le martien.
Martian Manhunter Annual #2 (oct.1999) couv: Art Adams.
"Little Orphan Marvin" Looney Tunes 64 (mai 2000) script: Sam Henderson; couv, art: David Alvarez
"Amanite and Tequila" Heavy Metal Special 2 (été 2000) (Heavy Metal CD Special) script, art: Cromwell.
Deux filles au pair sur la planéte Mars décident de gagner un peu plus d'argent en jouant les chasseurs de prime.
"Peril On Parallel Planets!"(Round Table of America) Big Bang Comics 33 (Image - juil.2000) couv: David Zimmerman; script: Chris Mills, James Chambers; art: Anthony Bordelon
Mr Martian est membre de la Table Ronde d'Amérique.
"The Martian" The Nimrod 5 (août 2000) script,art: Lewis Trondheim
"Jingle Belle Conquers the Martians" Jingle Belle: Naughty & nice (Oni Press) (oct.2000) script: Paul Dini; art: Lawrence Marvit
"Caminando con Marcianos" web comics (Espagne : auteur Christian Aguirre) 2001
http://www.cristart.cl/historias/marcians/pagina1.htm


"From Africa to Mars" Frank Cho Illustrator 1 (janvier 2001)
"The Strange Experiment of Dr Erdel" Millenium Edition: Detective Comics 255 (janvier 2001)
Origine de John Jones, le Martian Manhunter.
"Superman and Martian Manhunter (and Plastic Man too)" Superman 165 (févr.2001) script: Jeph Loeb; art: Humberto Ramos
Cadeaux de Noël: pour J'Onn des cookies au chocolat et pour Plastic...des élastiques.
"The K-9 Files" Looney Tunes 74 (mars 2001) couv: David Alvarez; script: Jeesse Leon McCann; art: David Alvarez
"The Owner of Mars Attacks! " Futurama comics 3 (avril 2001)
"Carrot Conquest" Looney Tunes 79 (août 2001) script: Mark McKain [as McKain]; art: Leo Batic / in Looney Tunes (DC, 1994 series) #196 (mai 2011)
Marvin le martien déclare à Bugs Bunny que tout sur Mars est alimenté par les carottes et que Mars a donc besoin de réclamer la totalité des réserves en carottes de la Terre.
"Duck Wing Commander" Looney 84 (janv.2002) couv: David Alvarez; script: Jeesse Leon McCann; art: Walter Carzon
Duck Dodgers affronte Marvin le martien.
"Martians attack" Savage Dragon 100 (Image - juin 2002) script,art: Erik Larsen
12 avril 1997. Les Martiens ont attaqué la Terre parce qu'ils voient dans le nombre sans cesse croissant de Superhéros une menace potentielle pour leur existence. Ils provoquent des ravages dans le monde entier. Le gouvernement des États-Unis envoie SuperPatriot détruire la forteresse des extraterrestres de Détroit. L'opération échoue, le héros capturé et ses enfants, Liberty et Justice, décident de mener une mission de sauvetage.
"Mr. Martian: The Miraculous Marooned Man From Mars!" World Class Comics 1 (août 2002) script: Jeff Pedigo; art: Ron Fontes
Hommage au Martian Manhunter des années 50.
"The Bigger Bang" Looney Tunes 92 (septembre 2002) couv: Neal Stemecky; script: James Denning; art: David Alvarez
Marvin se mesure à Yosemite Sam dans un duel aux pistolets qui les améne à détruire Mars et la Terre.
"Must There Be a Martian Manhunter?" Justice League Adventures 10 (oct. 2002) couv: Butch Lukic; script: Josh Siegal; art: Chris Jones / in Justice League Adventures (DC, 2003 series) #[nn] (mars 2003)/ in Justice League Adventures (DC) #1 - The Magnificent Seven (2004)
La Justice League a battu Screamthief, un méchant qui fait extrêmement peur à tout le monde. Quand Superman est blessé pendant le combat, Martian Manhunter prend l'apparence de Superman pour assurer au public que tout est sous contrôle.
"Men are from Mars—Women are from Hell! / I Ain't got no body!" Harley Quinn 23 et 24 (oct-nov.2002) script: Karl Kesel; art: Craig Rousseau; couv: Carlo Barberi.
Killraven #1 (déc.2002) nouvelle série écrite et dessinée par Alan Davis en 6 épisodes jusqu'en mai 2003
" K Is for K-9 " Looney Tunes 100 (mai 2003) script: Dan Slott; Jennifer Moore; art: Mike Kazaleh
"History of Mars / Martian flying carpet" League of Extraordinary Gentlemen vol.2 (nov. 2003) Script: Alan Moore; art: Kevin O'Neil / in League of Extraordinary Gentlemen v2 n°2 (sept.2002)
La Guerre des Mondes vue par Alan Moore ou il engage la ligue contre les martiens.
" Go Away Stowaway!" Looney Tunes 106 (nov.2003)
"Martian Man / Guardians of the Globe" Invincible 7 (déc.2003) script: Robert Kirkman, art: Cory Walker remplacé au dessin par Ryan Ottley dés le n° 9.
Premiére apparition de Martian Man / L'Homme de Mars (clin d'oeil à Martian Manhunter) dans les Gardiens du Globe. Ce martien a des pouvoirs métamorphes.
Fatigué de l'isolement de sa race, l'être connu comme l'homme de Mars, a fui vers la Terre dans les années 1970 et a pris l'identité d'un super héros. Le public crut pendant des années que l'homme martien n'était juste qu'un super héros dissimulant sa véritable identité à travers l'apparence d'un martien. Après quelques années passées sur Terre, l'homme martien rejoignit les Gardiens du Globe, mais fut tué plus tard par Omni Man. Shapesmith est en sorte son héritier dans l'équipe.
"Flash Gordon: Colony on Mars, Part 1" Comics Revue 225 (2004)
" Mad Martian Party " El Muerto Mishmash 1 (2004) couv,script, art: Javier Hernandez
"Space for Rent" Looney Tunes 109 (fév.2004) script: Sholly Fisch; art: Omar Aranda
Marvin le Martien; K-9; Daffy Duck; Porky Pig; Elmer Fudd
"El Superbeasto: Mars Needs Women" Rob Zombie's Spookshow International 7-8-9 (avril-juin 2004)
Les petites amies du catcheur El Superbeasto ont été enlevées par des martiens des plus antipathiques et qui en plus menacent la Terre.
"Chariots of the Clods" Looney Tunes 113 (juin 2004) script: Frank Storm; couv, art: David Alvarez
Le coyote est enlevé par Marvin le martien.
"Cooking the book" Batgirl 54 (juil.2004) script: Dylan Horrocks; art: Rick Leonardi
Un mysterieux personnage détruit les exemplaires du livre "La Conspiration Mars", Batgirl cherche à récupérer un exemplaire à ses risques et périls.
"Men Are From Mars, Women Are Intravenous" Bite Club 3 (août 2004)
pas de rapport avec Mars
Adventures Of Little Archie vol.1 (Archie Comics) (oct.2004)
Recueil d'histoires de Little Archie publiées originellement dans les années 60, ou il rencontre les martiens.
"Off to Mars!" Invincible 18 (Image - oct.2004) script: Robert Kirkman; couv,art: Ryan Ottley / in Invincible TPB vol.7 (2004)
Invincible accompagne l'expédition terrienne vers Mars. Les martiens sont hostiles et l'expédition s'enfuit, protégée par Invincible, en laissant un astronaute infecté par des organismes gélatineux martiens.
"Daffy Duck vs Martians" Looney Tunes 118 (nov.2004) couv: David Alvarez; script: Earl Kress; art: Neal Stemecky
Marvin le martien essaye d'attraper Duck Dodgers pour conquérir la Terre.
"Message From Mars" Looney Tunes 119 (déc.2004) script: Bill Matheny; art: David Alvarez
Foghorn le coq envoie à Marvin le Martien un message désagréable et se fait blasté.
"UFO" Will Eisner's Spirit Archives #15 - DC (déc.2004) réédition du 28/09/1947
Awesome Bells is based on Orson Welles, banished to Hollywood after his hoax Martian invasion broadcast. Bells is beside himself when he meets a real Martian. Especially after the Martian kills press agent Flash Feeny.
Essential Killraven vol.1 (2005) Marvel / couv: John Romita / couverture couleurs et dessins intérieurs en noir et blanc.
" Out of Space " Looney Tunes 120 (janv. 2005) script: Sholly Fisch; art: David Alvarez
"Mars Needs Kittens" The Amazing Joy Buzzards 4 (Image - avril 2005)
"Mr.Monster: War of the Worlds II" Atomeka Press (2005) Scénario Michael T. Gilbert, dessiné et colorisé par George Freeman. Couv: Alex Horley
"4-Dimensionnal Vistas" in The Tides of Time - Doctor Who Graphic novel (Panini - mai 2005) art: Mike Austin / in Doctor Who Monthly 78 à 83
Ou le (cinquième)docteur Who retrouve les ennemis de l'humanité, les Ice warriors martiens! Toujours aussi agressifs.
"Cosmic Wheels in Motion" G0dland 1 (juillet 2005) script: Joe Casey, couv,art: Tom Scioli / in Godland (Image, 2006 series) #1 - Hello, Cosmic! (2006) / in Strange (Organic Comix, 2009 series) #1 (novembre 2009) / in Gødland (Organic Comix, 2012 series) #1 - Salut cosmique ! (2012)
The main character of the series is astronaut Adam Archer. As the sole survivor of an ill-fated journey to Mars, Adam Archer meets the alien entities known as the Cosmic Fetus Collective, who transform him into a cosmic being and instruct him in the uses of his new powers. Archer is sent back to Earth as the first human to be touched by universal enlightenment.
"I Discovered the Men from Mars! " Marvel Masterworks: Atlas Era Tales to Astonish #1 (2006)
" Beyond Capes: Killraven: A Martian Illiad; Back In Print: Mark Wheatley and Marc Hempel Return to Mars" Back Issue 14 (janv.2006)
"Origin of the Universe" G0dland 8 (mars 2006) Image Comics / script: Joe Casey, couv,art: Tom Scioli
The story began with Adam Archer, a former astronaut who encounters an enclave of alien beings upon the planet Mars. These beings expanded Adam's consciousness, trained him to use a series of new-found, superhuman abilities, and then sent him back to earth for reasons unknown.
"Red Zombies" Seven Soldiers: Frankenstein 2 (DC, mars 2006) script: Grant Morrison, couv, art: Doug Mahnke / in Seven Soldiers of Victory (DC) #4 (janv. 2007)


Le monstre est sur Mars, suivant une piste de mort et de misère humaine vers les tombes hantées de B'aal B'zaar et le plus grand filon de l'or dans le système solaire! Des chevaux carnivores, un nouveau type de commerce d'esclaves, l'origine secrète de Melmoth the Wanderer et la menace imparable des Zombies rouges l'attendent!
The Seven Soldiers of Victory (également connu sous le nom de Law légionnaire) est une équipe fictive de super-héros de bande dessinée dans l'univers DC Comics. Ils ont d'abord paru dans Leading Comics # 1 (hiver 1941) créés par Mort Weisinger et Mort Meskin. En 2005, Grant Morrison et JH Williams III ont lancé une version réactualisée des sept soldats, déclinés en sept mini-séries interdépendantes et deux recueils. Alors que certains membres de cette nouvelle équipe sont des super-héros DC Universe de longue date, aucun n'a été membres de l'incarnation précédente de l'équipe. Ensemble, ils se battent pour sauver la Terre et ses environs de la Sheeda. La maxi-série a remporté le Best Finite 2006 / Série Limitée Eisner Award.
"Dark Executioner" Mark Starks' Martian Motion Comic Book part 1 et 2 (avril 2006- 2011)
http://www.youtube.com/watch?v=Cr-_S7Rnjok
http://www.youtube.com/watch?v=o8SmKu15Gyc
Freed from suspended animation by Earth astronauts on Mars, Martian strives for justice and peace in the galaxy... "Dark Executioner" Story by Nik Havert. Pencils, Ink and Lettering by Azim Akberali. Cover by Azim Akberali. "Martian" is an intergalactic cop who patrols the galaxy with his female Earthling partner, Terra. In "Dark Executioner", Martian and Terra discover a lifeless Jovian freighter is not abandoned.
"Puffy Ami Yumi Conquer Mars!" Hi Hi Puffy AmiYumi 3 (juin 2006)
"Mars needs chickens!" Looney Tunes 136 (mai 2006)
"My Favorite Martian" Invincible 36 à 41 (octobre 2006 - sept 2007) script: Robert Kirkman; couv,art: Ryan Ottley / Invincible: Mars attaque! (Delcourt - juin 2012)
Un astronaute d'une mission martienne a été laissé sur Mars infecté par des organismes gélatineux. Il revient vers la Terre pour y répandre l'épidémie, Invincible va le combattre aidé par les Gardiens du Globe. Les parasites martiens essayeront de conquérir la Terre dans le n°70 (fév.2010) .
"Mars Needs Women" Frank Cho 1 (déc.2006)
"He Adopted a Martian Boy" Showcase Presents: The House of Mystery 2 (2007) / art: Bernard Baily / histoire originale "I Adopted a Martian Boy" Tales of the Unexpected 28 (août 1958)
"General Jack Cosmo and the Werewolves From Mars" General Jack Cosmo presents 1 (avril 2007) couv: Kalman Andrasovszky et Sonny Leader; script: A.M.Shaps, art: Nate Lovett
General Jack Cosmo is an outer space adventurer who battles vampires, werewolves and more. He wears a suit which makes him look similar to a devil and he flies around on a jetpack equipped with a sword, pitchfork and can equip a device to his hand that shoots lasers.
"King Arthur of Mars " The Tick's 20th Anniversary Special Edition (mai 2007) par Benito Cereno; art: Cory Walker
"White picket fences" 1 (mai 2007) Ape Entertainement / script: Matt Anderson & Eric Hutchins, art: Micah Farritor
Charlie, un enfant de onze ans, vit dans la paisible ville de Greenview, un nom qui dit tout. Lorsque Charlie est assez courageux pour entrer dans une ferme abandonnée toute seul, il est récompensé par un véritable trésor, le rêve de tout enfant sur la terre. Ce qu'il trouve semble être une télécommande sophistiquée, et sans se soucier des conséquences, il l'emméne à la maison. Puis il appuie sur le bouton rouge ... Jamais, ne jamais appuyer sur un bouton rouge. De mauvaises choses vont arriver.
"O Martian, What Art Thou?" Looney Tunes 150 (juil. 2007) script: Joey Cavalieri; art: Peter Bagge
THB: Comics from Mars 1 (juil.2007) Paul Pope (script et dessin)
"Murder on Mars, Part 1 -2-3" Spaceship Away 12 -13-14 (été-nov. 2007, printemps 2008) par Denis Stepper
Sinbad: Rogue of Mars 1 (sept.2007) script: Greg Thompson; art: Jeff "Chamba" Cruz
"Forerunner, Part One: The Origin of the Species" Countdown to Adventure 1 (oct.2007) The Martians (flashback)
"My Favorite Martian" Invincible TPB vol. 8 (Image Comics - juil.2007) recueil des n°36 à 41, script: Robert Kirkman; couv,art: Ryan Ottley
Martian Man was a member of the original Guardians of the Globe.
With aliens from Mars on their way to attack Earth, Shapesmith reveals that he himself is a Martian and that the attack is all his fault. Invincible and Atom Eve team up with the Guardians of the Globe to face the Martians in space before they can reach Earth and take over.
Showcase Presents: Martian Manhunter, Vol. 1 (juil.2007) art: Jack Miller
Mars needs moms! (2007)
by Berkeley Breathed
From the Pulitzer Prize-winning comic strip creator of Bloom County comes this funny, poignant picture book! Milo doesn't get it: what's the big deal about moms? They're just slave-driving broccoli bullies, yet they're worshipped the world over! Perhaps even the galaxy over - because here come the Martians and they're after one thing only: moms!
One Day on Mars (Tau Ceti Agenda) (oct.2007) ed.Baen; art: Travis S.Taylor
---
Nouveautés martiennes en Comics 2007-2014
---
Web comics
Martians are also rarely-seen protagonists in the web-comic It's Walky (1999-2004). In IW, Martians have left their dying world, denied themselves the opportinity to invade Earth, and founded a galactic-wide empire. They return to take vengeance on Humanity when the few martians on Earth are killed in an elaborate set-up by an alternate dimensions Human refugees.
One of the central themes in Irregular Webcomic! features a small group of Martians, represented by Lego figurines.
A Martian dragon appears in the fiction-within-a-fiction story "The Heterodyne Boys and the Dragon from Mars", from the steampunk webcomic Girl Genius.(2005)
2011 : Invasion of the Cat-Men from Mars a neat new free online Pulp-Era serial comic by Kurt Wilcken. Set in the futuristic world of 1935 where a brilliant inventor and scientist named Hannibal Tesla travels the globe fighting evil with his team of able associates, Invasion of the Cat-Men from Mars is a story arc of how Chicago Courier reporter Ginger DuPree traveled to the Moon and uncovered an alien Martian invasion!