Cartoons "martiens" de 1919 à nos jours
Divers Episodes "martiens" de séries animées
Astro Boy
Astro Boy est un robot au corps de jeune garçon crée par un savant.
Astro Boy is a science fiction series set in a future where androids co-exist with humans. Its focus is on the adventures of the titular "Astro Boy", a powerful robot created by the head of the Ministry of Science Dr. Tenma (天馬博士 Tenma Hakase) (Dr. Boyton in the first series English anime, Dr. Balfus in the second series) in order to replace his son Tobio (Astor Boynton III in the first series English anime, Toby in the remake of the first series English anime) who died in a car accident.
Astro Boy is the first Japanese television series to display the aesthetic that later became known as anime. It originated as a manga comic series started in 1952 by Osamu Tezuka.



Expedition to Mars (1963)
Astroboy is selected to lead a search party to find the survivors of the first manned expedition to Mars. This meets strong objection from the spaceship's captain, who protests taking orders from a robot.
Mysterious Cosmic Rays (1964)

Gray Dorian is returning from Mars. Although he is a man in his 80s, he appears to be in his 30s. He has learned to harness cosmic rays to keep himself young. His former partner Dr. Geiger suspects that these experiments may have had grave side effects, which Astroboy soon discovers.
8 Man (Eightman)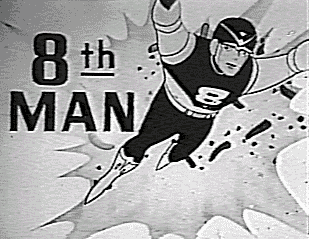 Mars Human SAW (1964)
TCJ Productions
distribué par: ABC Films
personnages: Brady/Tobor/8th Man, Professor Genius, Chief of Police Fumblethumbs, Jenny Heartsweet, Skip Pepper.
dirigé par Frank Schuller.produit par Gene Prinz (ABCFilms).
écrit par Kano Ichiro.
25 minutes, n&b, Japon

Special agent Brady, working for International Crime Prevention Headquarters, is ambushed and left for dead. Discovered by a scientist, Professor Genius, Brady's life is saved when Genius takes his mind and incorporates it into an electronic brain. Brady's mind now controls a super-powerful robotic (and bionic) body capable of incredible crime-fighting feats. Brady, in the disguise of Tobor, opens a detective agency and works undercover for Chief of Police Fumblethumbs.
English title: "The Menace From Outer Space." Based on "8th Man," a comic strip by Jiro Kuwata and Kazumaza Hirsi.
Roger Ramjet (156 épisodes)
(1965)
Snyder-Koren Productions, Pantomime Pictures, Inc.
distribué par: CBS Films, Inc.
personnages: Roger Ramjet, General G.I. Brassbottom, Martians.
dirigé par Fred Crippen (Supervising).
produit par Fred Crippen.
animé par Don Schloat, Alan Zaslove, George Nicholas, Bill Hutton, Fred Crippen.
écrit par Gene Moss, Jim Thurman
6 minutes.couleurs, U.S.A.
The Cowboy (épisode n°8)
Roger flies to Lompoc for the famous flower festival. Unfortunately, the local cowboys think Roger is a Martian.
Airplane (épisode n°53)
On a flight to New York, Yank falls out of his plane — only to be picked up by Martians. Shades of Mulder and Scully, these space fiends want to open up Yank to see what makes him tick. Can Roger reach him in time?
Mars (épisode n°55)

When Mars threatens to conquer the Earth, Roger heads out to see what he can do.
Four six-minute episodes shown in each half-hour show.

Johnny Cypher in Dimension zero

The Martian Plague (1968) ( épisode 55 - 130)
Oriolo Film Studios, Inc., Children's Corner, Inc.
Animation Studio: K. Fujita Associates, Inc., Nezu Production, Inc., Studio Beez, TV Films [Terebi Doga]
distribué par: Seven Arts Associated Corporation
personnages: Johnny Cypher, Zena, Rhom, Captain Krool, Mr. Mist, Dr. Flood, The Torchmen, The Abominable Snowman, The Mothmen, Captain Nogo, Mr. ESP.
produit par Joe Oriolo.
animé par Nezu Production, Inc., Children's Corner, Inc.
écrit par Peter Fernandez, Sid Jacobson, Alan Riefe.
6 minutes, couleurs, Japon
Johnny Cypher is a brilliant scientist. He develops an ability to travel though inner space and combat the forces of evil throughout the universe.Zena, a beautiful blond was Johnny's companion and Rhom, a galactic being from the Black Star also helped Johnny.
Dimension Zero was the name given to Johnny Cypher's ability to cross time and space barriers. He would turn the dial on his belt to travel inside a tornado.

Wakusei Robo Danguard A (1977-1978) 56 épisodes

SOS Objectif Mars (épisode 15)
Seul sur Mars (épisode 36)

Gaiking (1976-1977) 44 épisodes

Un Chateau fantôme sur Mars (épisode 43) 1977
Galaxy Express 999 (1978-1981) 113 épisodes

Tetsurô (Teddy) voit sa mère se faire tuer par le Comte mécanique (le Comte de Fer). Il rencontre Maetel (Marina), une femme mystérieuse qui lui offre un billet pour le Galaxy Express 999, qui se dirige vers la planète où il pourra se faire robotiser.
Le Vent rouge de Mars (épisode n°2) 1978
Mars, bien qu'habitable, n'est peuplé que par des androïdes trop pauvres pour partir. Tetsurô rencontre un couple qui tente de lui voler son billet. Mais l'homme décide de partir seul, et tire accidentellement sur sa compagne, il sera tué par Tetsurô.
Gatchaman II (La Bataille des Planètes)
L'organisation nommée Galactor est bien déterminée à prendre le contrôle de la Terre. Pour ce faire, elle utilise tous les moyens à sa disposition en envoyant notamment des méchas géants. A sa tête, un dénommé Zoltar, spécialisé dans la manipulation des apparences et l'illusion en général. Mais est-ce vraiment un Humain? Heureusement, le professeur Cavelier a créé la Forge G: une équipe d'élite formée de 5 jeunes aux pouvoirs technologiques impressionnants, et qui sont chargés de mettre un terme aux agissements de ce fou de Zoltar.
Pour la première fois, 5 êtres dotés de capacités exceptionnelles s'allient pour lutter ensemble contre le mal. Chacun porte une couleur et correspond à un stéréotype de personnalité. De même, pour la première fois, chaque membre a son propre véhicule qui, quand ils n'étaient pas séparés, se retrouvent avec leurs pilotes dans le vaisseau Phoenix.
Invaders From Mars (1978)
Strike! The Evil Base on Mars (1978)
Tatsunoko Productions Co. Ltd.
personnages: Ken, Joe, Jun, Jinpei, Ryu, Dr. Nambu, Katse, Sosai X, Berg Katse, Gel Sadra, Gerusadora, Dr. Pandora.
dirigé par Hisayuki Toriumi.
produit par Ippei Kuri, Tomoyuki Miyata.
Originally Aired on Fuji TV.
30 minutes, couleurs, Japon
The second incarnation of Gatchaman in Japon.

Battle of the planets
Rescue of the Astronauts (1978)

While returning from a mission to take an electronic survey of Mars, two astronauts are kidnapped by Spectra agents. It's up to G-Force to rescue them and retrieve the priceless information from the Mars mission.

Battle of planets = 85 épisodes de Gatchaman + coupes + 7 Zark 7


Superfriends (66 épisodes - 3 saisons)

Challenge of the Superfriends was a half-hour show, paired with a half-hour Superfriends. Challenge of the Superfriends came the closest to the comic books by pitting The Justice League of America against the Secret Society of Super Villains, the Legion of Doom. Superfriends, on the other hand, combined only five of the super heroes and their Exxorian trainees, Zan and Jayna and their monkey Gleek.)

Invasion Of The Brain Creature (1978) épisode de la série " :Superman, Green Lantern, Batman, Wonder Woman, Aquaman.
Hanna-Barbera Studios
personnages: Superman, Batman, Robin, Wonder Woman, Aquaman, Jayna Wonder, Zan Wonder, Gleek.
30 minutes.couleurs U.S.A.
When the Super Friends discover the Earth being battered by lightening, they ultimately discover brain creatures on the planet Mars are the cause. The take over Batman's mind and eventually Superman's mind, forcing the two heroes to help try to destroy their own planet, and leaving the remaining Super Friends to get free and stop the evil brain creatures.
One Small Step For Mars (1980)
Hanna-Barbera Studios.
personnages: Superman, Green Lantern, Batman, Wonder Woman, Aquaman.
dirigé par Ray Patterson, Carl Urbano, Oscar Dufau, George Gordon.
produit par Don Jurwich.
écrit par Jeffrey Scott.
7 minutes, couleurs, U.S.A.
Superman and Green Lantern deal with three renegade aliens from Mars who have come to Earth to cause trouble and steal aircraft to invade their home planet. (When three Martians come to Earth to steal aircraft to invade their home planet, Superman and Green Lantern must figure out some way to stop them. )
Captain Future = Capitaine Flam
The Zauberer Of Mars: Kuolon's Challenge(1979)

The Zauberer Of Mars: Flight Into The Fifth Dimension(1979)

The Zauberer Of Mars: The Invisible Planet(1979)

Toei Doga, Monte Carlo Productions, Saban International, ZIV International, Zweites Deutsches Fernsehen
personnages: Captain Future, Joan Randall, Otto, Grag, Ken Scott, Professor Simon Wright.
dirigé par Kôzô Morishita, Akira Yokoi, Hideki Takayama, Johei Matsuura, Tomoji Katsumata, Shigeo Hirota.
produit par Hiroshi Takeda.
animé par Tadano Tsushi.
écrit par Toyohiro Andô, Masaki Tsuji.
Originally Released in March of 1979 (Estimate).
30 minutes. couleurs, Japon / France / West Germany

Rickety Rocket (16 épisodes)
It was an animated television series, produced by Ruby-Spears Productions, and ran from 1979 to 1980. It is a segment on The Plastic Man Comedy-Adventure Hour, and is about a detective agency that ran by four teenagers and their makeshift rocket, similar to Speed Buggy.
The Golden Crystal Caper (1979) n°4
Ruby-Spears Productions.
personnages :Rickety Rocket, Cosmo, Splashdown, Sunstroke, Venus, Lazer-Lips.
produit parJoe Ruby, Ken Spears.
22 minutes.couleurs U.S.A.
The far-out detective agency has to transport the priceless golden crystal of Mars to Hong Kong. En-route via the Astrorail, the Crystal is stolen by Lazer-Lips, a female jewel thief, who can project a laser beam from her lips that immobilizes anyone it touches. The recovery pursuit takes the kids through the factories, waterfront and seedy bars of futuristic Hong Kong.

Uchu Senkan Yamato
This series was also known as "Space Cruiser Yamato" and (in the U.S.) as "Star Blazers."
Space Battleship Yamato is often cited as the beginning of the Golden Age of Anime
Test of Warp Drive, at Mars (1979) "Quest for Iscandar, Episode 4."
Office Academy, Sunwagon Productions, Claster Television, Westchester Films, Inc.
distribué par: Voyager Entertainment
personnages: Derek Wildstar, Gamilon General Gustaf, Gamilon Leader Desslok, Mark Venture, Nova, Queen Starsha, Sft. Knox, Trelaina, Vulgar.
30 minutes. couleurs, Japon
In the year 2199, the crew of the Space battleship Argo blast their way through space with their Wave Motion Cannon, seeking salvation for earth from radiation and taking down the evil enemies of man.


Shoot for Planet Mars (1984)"The Bolar Wars, Episode 4."
Cette trés vieille série (1974) a eut une succés tellement énorme, que l'on peut dire qu'elle est à elle seule à l'origine de l'attrait des japonais pour l'animation. Tirée du manga de Leiji Matsumoto, l'histoire se passe dans le futur. Un vaisseau de guerre japonais, détruit durant la deuxième guerre mondiale est transformé en vaisseau spatial : Uchû Senkan Yamato (Le vaisseau de guerre spatial Yamato). On compte trois séries d'animation, quatre films et un téléfilm, tout ceci s'étalant de 1974 à 1983. Un remake a été produit sous la forme de 4 OVA : Yamato 2520 (1995~1997)
Un nouveau film du Yamato était prévu en 2001, le scénario écrit en collaboration avec Yoshimi Ishikawa.
Cette série ne fut jamais diffusée en France.

God Sigma (1980-1981) 50 épisodes

Mars si rebelle (épisode 42) 1981
Trider G7(1980-1981) 50 épisodes

Pique nique sur Mars (épisode 36) 1981
Robotech

Macross Saga (1982)

Au revoir Mars (épisode 7 saison 1)
The Jetsons

Elroy meets Orbity (1984)

Hanna-Barbera Studios.
personnages :George Jetson, Jane Jetson, Elroy Jetson, Judy Jetson, Astro, Rosey, Cosmo Spacely, H. G. Cogswell, Orbity.
couleurs U.S.A.
Les Jetsons narrent les aventures humoristiques d'un famille en 2065.
On a field trip to Mars Elroy picks up a remarkable looking stone and takes it home. It turns out to be the cocoon of a rare pet. The Jetsons decide to keep the pet and call it Orbity. Orbity turns all kinds of couleurss to show its emotions.

The Odd Pod (1987)
Hanna-Barbera Studios.
épisode des Jetsons
Jane participe à un concours de jardinage quand Astro lui casse la plante choisie. Georges achéte alors à Jane une pante exotique "la Liane martienne" qui s'avére trés spéciale...

Dennis the Menace
Dennis la Malice
The Martians Are Coming (1986) épisode n°25 de la 2e saison
DiC Entertainment
Animation Studio: Tokyo Movie Shinsha, Studio Wood, Trans Arts
distribué par: DFS
personnages: "Dennis the Menace" serie
dirigé, produit par Michael Maliani.
7 minutes, couleurs, U.S.A.
Galaxy High (14 épisodes - 1 saison)

Galaxy High was about two earth teenagers who were accepted in the interstellar high school Galaxy High School on the asteroid, Flutor.
Martian Mumps (1986) n°12
Cente , T.M.S. Productions
distribué par: T.M.S. Productions
personnages: Doyle Cleverlobe, Aimee Brighthour, Beef Bonk, Luigi, Roland, Earl, Miss McBrain, Professor Icenstein, Wendy Garbo, Gilda, Creep, Booey Bubblehead, Milo DeVenus, Ollie, Flat Freddy Fender.
30 minutes, couleurs, U.S.A.
Everyone but Doyle, Aimee and Professor Icenstein get the Martian Mumps, a disease that turns everyone green and dull. They must find a cure soon or the students and teachers will remain martians forever.
Starcom, the U.S. space force (13 épisodes - 1 saison)

Caverns of Mars (1987) n°4
DiC Enterprises, Kenner Parker Toys, Inc.
personnages: John 'Slim' Griffin, James 'Dash' Derringer, Paul 'Crowbar' Corbin, General Torvek, Kelsey, Colonel Brinkley, Emperor Dark, General Von Dar, Major Klag, Malvanna, Romak.
30 minutes, couleurs, U.S.A.
A peace force for the interplanetary community uses technology, modern weapons, and futuristic vehicles to battle the evil Emperor Dark and the Shadow Force.

Transformers

Deux clans de robots s'affrontent dès 1985 sur nos écrans de télé (1984 USA): Les Autobots, menés par Optimus Prime, et les Décepticons, dirigés par Mégatron. Leurs particularité est de pouvoir se transformer, en véhicules, arme lourde, avion de chasse... Le conflit, commencé sur la planète Cybertron, se poursuivra sur Terre, durant 4 saisons.
Headmasters: Explosion on Mars!! Maximus is in Danger! (épisode 14-15 saison 3) 1987
Armada: Mars (épisode 36) 2003
Garfield and Friends

Unidentified Flying Orson (1988)
Lee Mendelson Films, Paws, Inc., Film Roman
personnages :Orson Pig, Weasel, Roy Rooster, Gort, Wade Duck, Wart, Lanolin, Bo, Booker, Sheldon, Fred Duck, Mort, Edward R. Furrow.
8 minutes.couleurs U.S.A.


Orson is reading some of his Sci-Fi stash, though Lanolin tries to convince Orson that it isn't real. Orson is reading a story on a Martian scheme to conquer Earth by disguising themselves as cheese danish and laser-phaser rays to take control of people. Roy uses a devious plan to convince everyone that this is for real, and uses some Cheese Danish as a joke to tease them about this invasion. He pretends to be possessed by the aliens, and even goes as far as painting one of the farm's silos as a rocketship that the Martians were using, the silo being full of corn and pouring out on anyone who opens it. Lanolin stops Orson from making a mistake and Roy is convinced he can open the "spaceship." He opens the silo and all the corn falls on him. He has to shovel it back in. However, Booker inadvertently discovers that aliens HAVE been disguising themselves as cheese danish by pulling one by its nose, thinking its a worm, and notices the the alien, which aside from arms, legs, and a face, looks just like a giant cheese danish. He runs, and then the alien goes back to his ship. The aliens depart in their UFO spaceship and state that their plan to disguise themselves as cheese danish was a failure, and that there were no intelligent life forms on Earth.

Attack of the Killer Tomatoes was a cartoon based off of the movie Return of the Killer Tomatoes.

Tomato Invasion from Mars (1990)
Marvel Entertainment, Fox Children's Network.
Animation Studio: American Film Technologies, Four Square Productions.
distribué par: 20th Century Fox
personnages: Chad Finletter, Tara Boumdeay, F.T., Friendly/Fuzzy Tomato, Dr. Putrid T. Gangreen, Igor Smith, Zoltan, Uncle Wilbur Finletter, Whitley White.
Originally Released on October 13, 1990.
Originally Aired on FOX.
30 minutes.
couleurs
U.S.A.
This show was TV's first fully computer-generated animated series.

Tom & Jerry Kids

Martian Mouse (1993)
Un explorateur martien est contraint de se poser sur Terre à la suite d'une avarie mécanique de sa fusée. Il confie la garde de son véhicule à Jerry pendant qu'il part chercher une dépanneuse spatiale. Bien entendu Jerry ne peut s'empécher d'entrer dans la fusée et de toucher tous les boutons ce qui la fera redécoller, poursuivie par Tom pour son plus grand malheur.

Bikermice from Mars (1993-1996 / 65 épisodes)

Back to Mars, 1-2-3 (1994)
Throttle, Modo and Vinnie...The Biker Mice from Mars...escape their planet as it it devastated by the fish faced plutarkians. Three Martian natives are also biker mice. Their world, formerly green and lush, was bought out from under them by the evil Plutarkians, a fishlike species. Modo, Throttle and Vinnie are the rebel leaders who were captured and given to the evil scientist, Dr. Karbunkle, to be experimental animals. They escaped, and made their way to Earth where they discover the Plutarkians are trying to take over Earth, too!
New World Animation
personnages: Modo, Vinnie, Throttle, Charley, Carbine, Stoker, Harley, Rimfire, Lawrence Limburger, Greasepit, Dr. Karbunkle, Lord Camembert, Mace, Dominic T. Stilton, Evil Eye Weevil, Stonecutter, Hacka Lougie, Honka Lougie, Fred the Mutant, Lawrence Limburger, Corroder Cody, Hard Rock, Jimmy Mac, Weather Mister, Xterminator, Stonecutter.
Originally Released on October 22, 1994.
30 minutes.
couleurs
U.S.A.
When the Biker Mice finally capture Limburger, they must return with him to Mars to face trial. They discover that they are also thrown in prison for treason. The Mice have to escape and save Charley from Greasepit and Karbunkle while claiming that they have not done anything wrong. (1)
The Mice must now face Limburger's latest machine from annihilating Mars. The machine attracts asteroids to the planet, to bring complete destruction. (2)
They still have to roost Napoleon Brie from Chicago where he's taken over in Limburger and the mice's absence. (3)

Once Upon a Time on Mars, 1-2-3 (1996)
New World Animation
personnages: Modo, Vinnie, Throttle, Charley, Carbine, Stoker, Harley, Rimfire, Lawrence Limburger, Greasepit, Dr. Karbunkle, Lord Camembert, Mace, Dominic T. Stilton, Evil Eye Weevil, Stonecutter, Hacka Lougie, Honka Lougie, Fred the Mutant, Lawrence Limburger, Corroder Cody, Hard Rock, Jimmy Mac, Weather Mister, Xterminator, Stonecutter.
30 minutes.
couleurs
U.S.A.
Limburger is ready to use a new device, a Tug Transformer, to bring Earth into orbit of Plutark. (1)
Limburger is about to make Earth one of the newest moons of Plutark as the Biker Mice reveal to Charley about the time they dealt with the same problem back on Mars. (2)
The Biker Mice retell the stories of how Modo got his arm, Vinnie his mask, Throttle his eyes, and a betrayal that resulted in the disappearance of a friend. (3)

Exosquad
(52 épisodes en 2 saisons)
The series takes place in the 22nd century (around 2118-2120). Humans (ofter referred to as "Terrans") have expanded their presence beyond Earth, terraforming and colonizing Venus and Mars ("the Homeworlds"). At the start of the series, the Homeworlds were in conflict with the Pirate Clans, a group of rebel humans occupying parts of the outer solar system. After the Clans raided one too many unarmed homeworld freighters, the Earth Congress dispatched the entire Exofleet, humanity's space-based military, against them.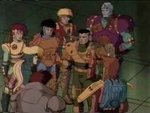 While war with the Pirate Clans loomed, a revolt was about to begin among the Neosapiens. The Neosapiens were a genetically engineered humanoid race, bred to be physically stronger and smarter than humans and used primarily as slaves during Mars and Venus colonization. The maltreatment of the Neosapiens led to their first revolt 50 years earlier, but that rebellion was crushed. The new insurrection has been thoroughly planned by the Neosapien Governor of Mars, Phaeton, and began shortly after the Exofleet went after the Pirate Clans (of course, its absence was a part of the plan, as well). The Neosapiens captured the Homeworlds without much effort.
Martian Luck (1994) n°23 de la 2e saison
Universal Cartoon Studios
distribué par: MCA Televsion
personnages: Lt. J.T. Marsh, Marsala, Nara Burns, Sean Napier, Kaz Takagi, Maggie Weston, Wolf Bronski, Phaeton, Praetorius, Shiva.
dirigé par Graham Morris (Supervising Director).
animé par Mark Risley.
Originally Released on October 12, 1994.
Originally Released in Syndication.
30 minutes.
couleurs
U.S.A.
The capture of Marduk, a Neo sapien who has supplied the ExoFleet with information, prompts Winfield to send two exosquads to Mars. Eventually Typhonus uses the spy as bait to ensnare the exosquads in a trap, but is not entirely successful. Torres gets shot down and rescued by some ExoScouts.
Synopsis complet (en anglais) http://www.stwing.upenn.edu/~pdanner/resolute2.shtml
Red Planet (1994)

minisérie animé diffusée sur la Fox, crée par Gunther-Wahl Productions.
Adaptation du roman de Robert Heinlein.
Heart of Mars (1994)
n°26
Universal Cartoon Studios
distribué par: MCA Televsion
personnages: Lt. J.T. Marsh, Marsala, Nara Burns, Sean Napier, Kaz Takagi, Maggie Weston, Wolf Bronski, Phaeton, Praetorius, Shiva.
dirigé par Graham Morris (Supervising Director).
animé par Mark Risley.
Originally Released on October 17, 1994.
Originally Released in Syndication.
30 minutes. Aired as part of the "Universal Adventure Hour."
couleurs
U.S.A.

Both Marsh and Typhonus make seizing the alien technology their top priority. Both the exosquads and Neo frames make it to a central complex, and a battle follows. A fusion pack explosion in the core causes the alien complex to begin to self-destruct. Everyone tries to frantically escape, as the planet itself suffers from quakes and lava flows. Soon after the ExoTroopers and Torres with the ExoScouts escape, the planet Mars is destroyed in a gigantic explosion!

Synopsis complet (en anglais): http://www.stwing.upenn.edu/~pdanner/resolute2.shtml
Eagle Riders - La Patrouille des Aigles (65 épisodes)

Mission to Mars (1996)
Tatsunoko Productions Co. Ltd.
distribué par: Saban Entertainment
personnages: Auto, Hunter Harris, Dr. Aikens, Joe Thax, Mallanox, Kelly Jenar, Mickey Dougan, Thaddeus Keane, Ollie Keeawani, Cybercon.
30 minutes, couleurs, Japon
The story of five teenagers, four of whom are orphans, who must defeat an environmental terrorist organization called Galactor. This was the first US adoption of the Gatchaman Japonese cartoon.
Based on episode 44 of "Gatchaman II." Only shown in Australia.
Eagles Riders = 65 épisodes = Remontages de Gatchaman 2 et F(ighter)
The Simpsons
The Springfield Files (1997)
Homer witnesses something out of this world in Springfield woods, but no one believes him, not even FBI agents Fox Mulder and Dana Scully from 'The X-Files'), who came to investigate the incident.
Gillian Anderson, David Duchovny and Leonard Nimoy guest star. Also, Warner Bros.' Marvin the Martian makes a brief appearance.
My Favorite Martian (1998) épisode 78 de la saison 2
Dee Dee gets Mars rock all over her and looks like a martian. Dexter thinks she is and takes her to a testing facility.
Futurama

Mars University (1999) épisode 2 de la saison 2
20th Century Fox Television, Curiosity Company, Rough Draft Studios
personnages: Bender Bending Rodriguez (Bender Unit 22), Philip J. Fry, Captain Turanga Leela, Amy.
dirigé par Bret Haaland.
produit par J. Stewart Burns, Brian J. Cowan, Jason Grode, Claudia Katz, Lewis Morton, Jane O'Brien, Patric Verrone.
animé par Gregg Vanzo (Executive Animation Producer).
écrit par J. Stewart Burns.
30 minutes.
U.S.A.
When Fry returns to college to prove he can be just as good of a dropout as he was in the Twentieth Century, Professor Farnsworth surprises him with a dorm mate. A super-intelligent monkey named Gunther. Meanwhile Bender, a legend at the robot fraternity Epsilon Rho Rho -- "ERR"-- leads a revenge of the robot nerds.
Where the Buggalo Roam (2002)
épisode 6 de la saison 4

Excel Saga (1999-2000)
2: The Woman Who Came From Mars (genre : Space Opera)
26 épisodes
Excel Saga est ce que nous pourrions appeler la parodie ultime. Chaque épisode de ce dessin animé est une parodie d'anime, de jeu, de film, ... dont les seuls fils conducteurs sont une mystérieuse organisation, ACROSS, et son apprenti tyran, le Seigneur Ilpalazzo, solennel sur son trône, dont le but est de conquérir l'univers. Comme celui-ci est plutôt grand, dans un premier temps, il se rabattra sur plus simple : la conquête de la ville de F (dans le département de F). De plus, comme son sens des priorités est vraiment particulier, la première mission qu'il ordonnera sera ni plus ni moins que de trucider l'auteur du manga original, Koshi Rikudo, accusé de pervertir les masses ignorantes. Cela commence bien.
Ilpalazzo a sous ses ordres deux phénomènes, chacun dans leur genre, Excel et Hyatt. Excel, la blonde, est une boule de nerfs sur pattes au débit impressionnant qui a recueilli un chien, Menchi, qui devra lui servir de nourriture de secours en cas d'urgence. Hyatt, la brune, a débarqué de l'espace dans un cercueil de verre un peu par hasard au quartier général d'ACROSS. Sa santé, particulièrement fragile, la fait au mieux s'évanouir dix fois, et mourir au moins une fois par épisode.
Nous retrouvons également quelques personnages secondaires intéressants comme Pedro, l'immigré brésilien qui meurt à cause d'Excel dès le premier épisode dans un incendie et dont on suivra les malheurs au quotidien, Ishi alias "La Volonté Suprême de l'Univers" qui ressuscite régulièrement certains personnages, Nabeshin (Watanabe Shiniji), directeur de l'anime, qui en profite pour jouer les héros récurrents, Kabapu, directeur de la sécurité de la ville de F, ayant sous ses ordres, entre autres, les trois voisins d'Excel : Watanabe, Iwata, et Sumiyoshi, dont l'accent du Kansai est représenté à l'écran par un sous-titre...

Iznogoud
Iznogoud souhaite faire disparaître Haroun El Poussah. Il est aidé de deux Martiens...

Frog et Fou furet
Un furet qui cherche à attraper une grenouille, rien d'étonnant, mais quand cette grenouille s'avère insaisissable, cela entraîne des histoires rocambolesques.
Maggie and The Ferocious Beast
Blast Off (2002)
Best Animated Series for Ages 3-5
Building a play spaceship, Maggie, Hamilton and Beast pretend to visit Mars.
Martin Mystery (2003) is an animated television series. It is loosely based on the Italian comic Martin Mystère.
The short and green-skinned Billy is one of Martin's best friends.
Billy the martian: A tiny green alien who works for "The Center" as M.O.M.'s personal secretary, oftentimes seen flying on his mini hovercraft. His role is generally a supportive one; he pops up anytime during a mission to give him, Diana and Java valuable information, and he does analysis on slime or fabric samples sent by Martin. In the second season, Billy was revealed to have once been a great alien warrior known as Ganthar, on another planet, but gave up violence for good; which is the reason he doesn't go on missions with the other three agents. He arrived to Earth in the Roswell, New Mexico "alien" crash in 1947. Billy recently adopted a human disguise- the "B.S. 1000"- to be with Martin and Diana at their school.
Atomic Betty (2004)
est une série télévisée d'animation canadienne créée par Rob Davies et Adrian Raeside et diffusée depuis le 17 septembre 2004 sur le réseau Cartoon Network. En France, la série est diffusée sur M6 et sur Télétoon.
Le mariage de mon meilleur Martien (Martian Makeover) épisode n°24
Atomic Betty est une fillette qui mène une double vie. Elle est écolière modèle dans une école remplie de gens normaux et en même temps elle sauve la galaxie de méchants comme le diabolique Maximus (une fois, il a voulu manger une omelette avec le dernier œuf de Rhinocerix de la galaxie). Elle est accompagnée de ses amis Sparky (un martien survolté) et X-5 (un robot polyglotte).
Sparky : cet extra-terrestre est le pilote du vaisseau de Betty et le second de cette dernière. Sparky a la peau verte, un gros nez, les cheveux bleus et des oreilles pointues (bien que ce dernier détail soit rarement visible en raison de la cagoule de sa combinaison). Dévoué à Betty, il est en général joyeux et assez plaisantin. C'est aussi un glouton et un enthousiaste.
The Backyardigans: Mission to Mars (2004)
Canada/USA (Animated, 4 episodes, 24 minutes each)
The Backyardigans is an animated musical adventure series about five high-spirited preschool friends who rely on their vivid imaginations to embark on amazing, epic adventures. In every episode, the backyard transforms into a new fantastic, photoreal landscape that serves as the backdrop for completely original, story-driven musicals. The main episode takes the Backyardigans to outer space and an underground Martian city.
Camp Lazlo: Beans Are from Mars (2005)
USA (Animated TV Series episode, Season 1 Episode 1, 25 minutes)
The Squirrel scouts discover that the Jelly Beans are from another planet and kidnap them to get more information.
La Cosa venuta da Marte (2006)
(Italie, cartoon tv avec pour héros Rat-Man, tiré de la bd éponyme de Leo Ortolani - 1995)
Un robot colossal menace la terre, semant la panique, même Rat-Man se laisse contaminer par l'atmosphère de terreur, enfin reprenant courage, il n'affrontera pas le robot du vrai superhéros.
The Adventures of Jimmy Neutron, Boy Genius:

King of Mars (2006)
(USA, épisode de la série d'animation, 28 mn)
C'est la course à travers l'espace et à la surface de Mars de Jimmy, Carl, Sheen, Libby et Cindy pour essayer d'empécher le garçon milliardaire, Eustace Strytch, de s'emparer d'une nouvelle source d'énergie qui pourrait révolutionner l'industrie à jamais!
Les Simpsons
The day the earth looked stupid (2006)
(USA) 18e saison
A la fin des années 1930, Kang et Kodos atterrissent à Springfield en vue d'une invasion extraterrestre, mais la ville, entièrement envoutée par l'émission de radio d'Orson Welles "La Guerre des Mondes", ne leur accorde pas beaucoup d'attention.
Billy and Mandy vs. the Martians is the 67th episode of The Grim Adventures of Billy and Mandy. It first aired March 23, 2006 on Cartoon Network and it is the show's sixth full-length episode. (Wikipédia)
Grim finally manages to escape from Billy and Mandy, but he finds himself working for an even more sinister force- the Martian Grim Reaper and his zombie army.
Missing Mom (oct.2006) Meteor and the Mighty Monster Trucks
Meteor finds the courage to admit to his friends that he misses his mother when she leaves on a space mission for Mars.
Martian mission (janvier 2007) épisode de la série "Ellen's Acres" is a pre-school comedy about a 5-year-old girl named Ellen, her feather duster, her radial tire, the hotel she owns
Something is digging up Ellen's mother's prize tulips. After traveling to Mars to confront the sneaky tulip swiper, Ellen discovers that the real culprit is... fuzzier than she expected.
Lunatics Unleashed
It came from Outer space (épisode 21 - février 2007)
Ignoring Tech's warnings, Lexi and Rev play a computer game that becomes reality when they accidentally attack Melvin the Martian's spaceship. The alien decides to shrink everyone and everything in Acmetropolis. Lexi decides to surrender herself to Melvin, and the others have to rescue her.
Martian Mice (2007) Tom and Jerry Tales; Warner Bros Television
Mistaken for a chicken, Tom is abducted by giant, green, alien mice and is expected to lay eggs to make a cake for their alien queen's birthday. Jerry thwarts the plan, and the cat and mouse are banished back to Earth.
Jibber Jabber (2008)
Jibber et Jabber sont des jumeaux de 7 ans plutôt turbulents. Leur imagination est sans limite.
---
Les Inclassables
Martian Gothic, Part 1 (2002) (animation avec briques de Lego !)
Approx Length: 2:50
Approx Size: 10 MB
Director: Patryk Wawer
An astronaut team lands on Mars to investigate the disappearance of a manned spaceship.
Star Trock épisode 1 (2004)(animation avec briques de Lego !)

.
Director: Raphael Nestler
Producer: Raphael Nestler
Production Company: Watch me Projects
A short film about a trip to Mars

http://www.archive.org/details/StarTrockEP1 28Mo
---